Nupur Kundu's present body of work reinforces her reputation as one of the foremost exponents of abstract painting amongst young artists in India. In her dogged and unrelenting pursuit of this art form in the face of a changing artistic climate where 'easel painting' itself was at risk, and the new genre which is emerging with the often bizarre juxtapositions of super-realistic figuration and increasing didacticism. Nupur has not succumbed to these trends or compromised the integrity of her personal vision. Her work has always stood apart from those abstract painters who embraced the genre because of a lack of schooling. The strength of her canvases speaks of a thorough grounding, a sureness of touch, expert handling of the medium and the use of thick impasto with a palette knife, resulting in works that have an impressive presence. She achieves this without recourse to either historical or topical references, creating a utopia of her own making replete with the pure imagery of a world created simply out of pigment and space.
Nupur has always been a colourist of great merit and her paintings a joyous celebration of colour. Those paintings which are more monochromatic with the warm reds, glowing cadmiums and verdant greens resonating from imagined landscape, that create an uninterrupted colour field with occasional accents of another pigment, have been her forte. These were ruminative and serene as a in a brilliant 'aalaap' where the quietude slowly begins to sing. Later moving towards the 'jod', rhythmical and sometimes atonal elements join in to create a powerful matrix of colour and form, rife with syncopations, little surprises, an occasional angry black stroke overlaying the harmony of the broader surface which lies at the heart of the work.
In the present collection I see a growing maturity and continue to be amazed at the optimism manifest in some of the works. A prevailing innocence seems to have survived the personal tragedies that she has faced at such an early age, leading to profound introspection while miraculously retaining the verve of her earlier paintings. Here there are some paintings which hint at dark forebodings over run with tracks and scratches, narratives in an imagined script of her own. Unrevealed secrets of a troubled spirit find expression in the stronger works of this series, giving them a focus and meaning that takes them beyond the sheer aesthetics and beauty of colour field abstraction. Where beauty has become a somewhat dirty word in the art discourse of the present times, Nupur's work adheres to aesthetic principles which are almost classical in their reliance on both form and colour. The painterlines of these newer works, where some linear or solid structures begin to appear, point to the fact that both form and colour prevail. In the bold departures in some of these new works it is clear that Nupur is not averse to taking risks.
I would like to mention here, her mural in the lobby of the GVK Taj Hotel in Chandigarh. This very large 22' long work is a tour de force crowning Nupur's ongoing achievements. Surely 'covering space' is the primary compositional problem any artist faces, whether representational or abstract. In this work Nupur achieves this with panache, without relying on either structure or narrative, creating a perfectly balanced large expanse, flowing effortlessly from one end to the other while adhering to all artistic criteria such as colour and tonal values. This can only be achieved at that scale through pure intuition and an ability to contain a vision till its completion, without losing the thread. There are no anomalies here only a creative certainty that takes many artists years to achieve.
Anjolie Ela Menon
Padma Shri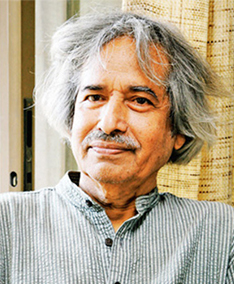 Nupur Kundu's recent body of work resonates with the amazingly wonderful vibrancy of the oil pigments; which as always tells us that she indeed has a natural and spontaneous feel for this medium of creative expression.
I distinctly remember Nupur being a very expressive professionally trained Kathak performer, and having experienced that on numerous occasions. With that background, one can very easily articulate her amazing connect with her creations on canvas. There is really a true connect, which is evident with her artistic strokes inspired from the rhythm and movement of Indian classical dance, translated on to the fathoms of the bare canvas.
As always, and over the years, Nupur has shown tremendous finesse in abstract painting. The world of Abstractions, it seems comes lucidly as a second nature to her. As a performer at heart, she tunes and creates each piece accomplishing a magnificent work of art, which combines a forceful, yet gentle, application of the pigment in impasto and thereby exhibiting breathtaking brilliant hues. Nupur's creations evidently explore the entire colour spectrum with utmost confidence and simplicity; and the result is a mesmerizing experience creating scapes from her own palette. The passion for plethora of colors is very apparent, and so is her unique blending technique.
A distinguishing and evident feature, something which strikes one instantly, is the naïve quality of the spirit behind the palette scapes. Strokes have been dealt with very maturely with spatial division and the over lapping layers of the pigment which reflect and reverberate the underlying colors. The entire surface of her canvas glows and outshines with multi-layered effect, and at the same time it generously shows the under painting which itself is equally and astonishingly vibrant.
I truly believe that oil medium is her forte, but what strikes the most in this series is the appearance of a very promising form in her RESIN SCULPTURES, another unending venture and fresh insight into her creative domain.
Apart from her creations on canvas, the recent series of her SCULPTURES are indeed a very fascinating expression of extending her well horned skills in the world of murals, and bringing in a fresh concoction which she has now also specialized in.
The series of sculptures in round, titled 'MOYOCOYOTZIN' is a unique expression of the artist, here Nupur has CAST HER OWN FACE in resin medium. Each of these, one of a kind limited edition creation, tells a unique and compelling story. Her palette scapes extend a distinct emotional contour on each of her sculptured faces, in different hues. Color used on these three-dimensional mask replicas are an extension of her passionate vibrance, further these are apparent as a powerful tool to express her various emotions. Though being an abstract artist, she makes it evident that, over the years it was her innate desire to search for a form that she could relate to closely. Her "Moyocoyotzin" series announces both a recognition and understanding of oneself as in together looking and knowing oneself in the mirror!
Apart from her Oil on Canvas works, the Relief Sculptures in Resin & Steel medium are further an extension of her abstract landscapes in a three-dimensional form.
Nupur has not only moved towards perfecting her art and making it more resonant, she has also, through her sculptures shown that she is very open towards the idea of going into newer areas of expression to assuage her artistic hunger.
I hope that Nupur carries on this passion of creativity further and delights & enriches us all.
Jogen Chowdhury
The Furious Purity
How can we live without the unknown in front of us? – Rene Char
Between the shadow and the soul, the flame is your dominion – Pablo Neruda
The known has such a dominant hold over the reality that we often tend to forget that the unknown in equally real. Arguably there is more reality unknown than known. The limitless unknown starts where the known ends, and reaches its ultimate borders. Even though young, Nupur Kundu has chosen to explore in her vibrant act the unknown. Through colors, revealing the unknown behind colors, concealed beneath the layers of the unexcavated layers of colors. She endeavors to embody in her work the ineffable in colors. The colors are given freedom to flow, move, and dialogue with each other, share inaudibly and even invisibly the mystery of their being. They carry no thematic burden nor are pushed into the straight – jacket of meanings. They are themselves – in purity, in intense and furious purity. They are a narrative into themselves. The primacy of color in Nupur's art immediately strikes the viewer: these paintings are, first and foremost, colourscapes. One is reminded of Hans Hoffman, who said, 'In fact, the whole world as we experience it visually comes to us through the mystic realm of color. Our entire being is nourished by it. This mystic quality of color should likewise find expression in a work of art'.
Since she has been trained in Kathak dance, it is not altogether surprising that Nupur treats color as performance. On her canvases, particularly the large ones, one witnesses colors engaged in furious dance. She, in fact, calls her act 'very performance – oriented'. A canvas all too often is an empty space on which colors would eventually commence their play as if the imagination at work is dancing from one color to another; as if the colors move in rhythm keeping pace with each other. This is pure dance creating significant patterns of movement and rhythm covering space without overshadowing it. The space gets painted, in fact, sometimes over-painted, since Nupur admits to her distinct inclination for 'over painting' and yet not obliterated as in dance. The body moves and sculpts in the void, covers the space and yet allows the space to remain in its anonymity, its nameless entirety.
In many paintings Nupur first paints the canvas black and in a way etches out other form out of the black surface. She uses palette knife, sculpting tools etc to discover the inherent but unrevealed form. She loves mixing white with a lot of other colors. In other words, like a true artist, she makes or rather discovers her own colors from the given color. She almost etches the colors which lay hidden or concealed below colors. These discoveries are spontaneous though 'not accidental' she justifiably claims. There is a constant give and take from the canvas: hence is both imagination and discovery. Colors, while in the dance of creativity, in a manner of speaking, create their own ambience, – not only their rhythm but also their being. It is not the artist alone making a painting but colors also doing so. Nupur, significantly, works on two or three paintings simultaneously: ostensibly to allow colors to dig up. But perhaps also to allow a pause during which colors could realize their music, listen to their own visual lyric, to put together their syllables to constitute cogent expression.
In the Indian classical dance like Kathak, the pure element of dance, abstraction, is called 'Nritta'. Nupur in her visual art performs an Nritta of colors. It has both purity and fury. She says, 'I find black canvas as if a dark stage'. Changing the metaphor, she asserts 'I love texture and love to see a lot of paint on the canvas! it is almost like one is sculpting a painting….'. She is very fond of using a palette knife applying paint on the canvas, like butter on bread. The works of art assume organic existence – their structure emerges through intense interplay of colors, layers, shapes, spaces etc and they move towards their uniqueness. They move between the color polarities of white and back. They finally emerge structured in colors which get created on their way; colors that are discovered through the act of imagination. They almost carry the fragrance of the newly born and the thrill of being un-spoilt, unsoiled and unchecked by the known. They are the intimations from the dominions of the unknown. They invite you to invest your own meanings if you want. Otherwise, they are free color-scapes; free in them selves and leaving you free to see, feel and imagine them in equal freedom.
Ashok Vajpeyi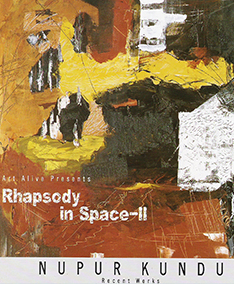 Rhapsody in Space
Nupur Kundu, whose studies of flowers and plants in a powerful expressionist style we are familiar with, has taken a step forward into non-representational art this time.
Non-representational art is not new to us, but that which steers clear both of expressionist landscapes and ritual symbolism is rare. Nupur shares this space with some of the tallest figures of Indian art, like V.S. Gaitonde . So she has high standards to keep up with. Her present exhibition shows she has the capacity to do this.
It is true that elements of naturalism and colours from nature influence her works, but it does not represent these. We may see burning mountains teeming with forest fires, the emerald depths of lakes, stormy skies over dry earth or the cut open insides of exotic fruits. But there are none of these in her works. They are not even paradigms of these.
They are spaces created by the artist, using colour and texturing the surface of her canvas with brush strokes of different types and intensity, which give one the feel of a mountain, a lake or the sky throbbing with elements of life. It is true that abstract art, like all art, draws its sustenance from life, but it does not replicate it. On the contrary, it creates a life of its own. The artist creates points of contact that open the doors of our long forgotten memory of things seen and feelings experienced. We may see certain things in her canvases that may not even have been thought of by the artist. She only unlocks the gates of our memories beyond which the walk is our own.
Her works speak directly of the relations of colours to each other as well as to the textures and brush strokes that bring out the best in them. This is art at its most truthful. It is nothing more than colour, textures and brush strokes in two-dimensional space. It neither represents nor symbolizes anything beyond itself.
It does however, encourage the viewer to explore it. It releases our thoughts into areas that we have neither known nor dared to enter because we felt we are not up to it. This is enabling art that creates things that have never been created before to release flights of fancy never experienced earlier.
Such art is bold, but it should not prevent us from grappling with its intricacies. Nupur's exhibition invites us to think as we may not have thought before. It encourages us to question images and symbols we respond to conventionally and interpret reality on the basis of material elements that are presented to us visually. This is art to awaken our sensibility and to allow us to think creatively. This in turn helps to improve the quality of our lives. That is why we sense a feeling of hope and elation when we look at her work. It consists of different arrangements of material elements that trigger off a spiritual response. That is its strength and what underpins the success of this venture of the artist.
Suneet Chopra
Art Critic & Writer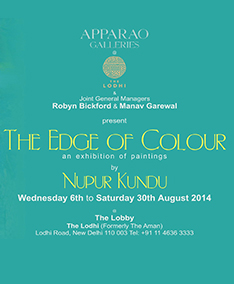 The Edge of Colour
"O chestnut-tree, great-rooted blossomer,/ Are you the leaf, the blossom or the bole?/ O body swayed to music, O brightening glance,/ How can we know the dancer from the dance?" If Yeats once posed this question regarding the dancer and the dance, in front of Nupur Kundu's painting we may ask how one may know the painter from the dancer. A formally trained painter and Indian classical dancer, Kundu brings to the canvas the richness of both her identities. Working on large format canvases, Kundu's approach to art is distinct in the way it combines the conceptual rigour of a formally trained artist with the rhythm and performative ease of a dancer.
Over the last few years, the connection between art and performance has been surveyed in several ways. A landmark within this exploration was the exhibition A Bigger Splash : Painting after Performance that opened to mixed reviews two years ago at the Tate Modern. The exhibition explored the relationship between painting and performance in two ways. The first point of departure was the connection between art and performance from the 1950s onwards when artists began to look at 'ways in which the act of applying paint to canvas can itself be a form of performance, as well as the reinvention of painting as a collaborative or ritualistic action. ' Featuring artists like Jackson Pollock, Niki de Phalle, Yves Klein etc. the exhibition explored the connection between the body and image making. The second take-off point for the exhibition was the notion of the art work as a space of theatricality and masquerade. Thus painters like David Hockney as well as installation and performance artists were used to substantiate the link between a work of art and the staging of emotion and identity. However if one were to engage with Nupur Kundu's works within the slightly binary framework of this exhibition, one would indeed be confounded. Not only does Kundu conceive the act of painting in a performative sense but her paintings themselves are exploratory spaces in which the encounter between the artist and viewer is staged
Working with a non-objective idiom, Kundu's approach is rhythmic and gestural as she pits one colour and form against another to create a spontaneous symphony. The effortlessness with which she juxtaposes layers of colours and forms is reflective both of her painterly skill as well as her aesthetic philosophy that believes in 'intuition, spontaneity, adventure, search and mystery'. One could therefore connect her art also with 'action painting'; a term used by the American art critic Harold Rosenberg to describe the work of artists like Franz Kline and Jackson Pollock. Pollock, who created his art by walking on the canvas pouring, dropping and spreading paint, conceived painting not so much as a product but more as a process through which one returned to the unconscious. While Pollock used his body as a kind of brush, Kundu's training as a dancer percolates into her painting through signature mark-making gestures. Applying colour in thick layers her works are a kind of performance in which she scratches and rubs the surface to create rich textural effects.
One can detect in Kundu's art the desire to detach the painterly image from the burden of representation and transport it to the realm of pure sensation. As Pollock argued once and Kundu now demonstrates, the soul of an art work is the 'concrete pictorial sensations' that arise when ' the memory images that inevitably insert themselves into any mode of expression ' are removed. Hence a crucial preoccupation for Nupur Kundu in her art is the materiality of the pigment itself and the visceral sensations that it can evoke in the viewer. Her use of reds and other warm hues balanced by touches of blues further enhances the perception of the canvas as a site of earthy sensuality. However this interest in the physicality of the pigment also has a more sublime connotation.
According to the noted art historian James Elkins, "Water and Stone are the unpromising ingredients of two very different endeavours. The first is painting, because artists' pigments are made from fluids …mixed together with powdered stones to give color….Painting and other visual arts are one example of negotiations between water and stone, and the other is alchemy. In alchemy, the Stone (with a capital S) is the ultimate goal, and one of the purposes of alchemy is to turn something as liquid as water into a substance as firm and unmeltable as stone. As in painting, the means are liquid and the ends are solid…. Painting is alchemy. " Kundu too intuitively perceives this link between painting and alchemy as she engages deeply with material nature of paint to reach the ineffable. She actualises her quest for Being by literally excavating the material with sharp tools to reveal the hidden layers beneath. Painting and overpainting, adding and subtracting pigments, Kundu creates canvases that vibrate with potent energy and arouse an embodied response in the viewer. Through this profound engagement with the pigment and its materiality, Kundu makes an eloquent argument for a vision of spiritual immanence, rather than transcendence.
Courtesy
Gallery Apparao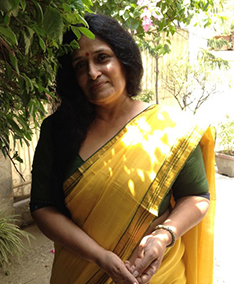 Colour Fugue
"My work is a quest to discover and reveal myself … My work can be described as spontaneity at its best. I work mostly at my subconscious level… At times I find the act of painting as a unique and a very blessed activity through which I am able to discover the psyche of people around as well as discovering myself at a level, which I could not be in front of people. I find a different creative side of mine being satisfied in this process of revealing myself. This feminine side of mine is very bold with its sole purpose of creation, which I find very powerful.
NUPUR KUNDU TO UMA NAIR
Impasto Passages
Stepping into Nupur Kundu's studio at Chittranjan Park in Delhi is to appreciate the colour fugue that meets your eyes in her crescendo filled canticle of layered art, it helps to know something of a deeply feminine composition born of the ethos of an artist who is also an accomplished Kathak danseuse. Over the years Nupur has developed a distinctive style that can also convey her meanings without words. In her drawings, on paper for example, she will collapse together sharply contrasting sensations of scale. Open plains, deep perspectives, echoing spaces — but also jittery little passages of impasto. Or, to put it differently, grand ideas have intimate yet deeply felt melancholic consequences. Her enormous canvasses depend upon many smaller nuances and passage in the rites of time and upon the fine grain of the expanse of her feelings itself.
Often, her hand is both skillful and awkwardly quick. She will draw colour zones in a chaotic way and make use of the quirky look of junky illustration while at the same time handling other elements, such as oil/acrylic, elegantly. The result is that her art often looks powerfully defaced, as if a heavy hand had suddenly entered high art. She appears determined to face down a recurring, reflective yet resonant darkness that some of us may know.
The resulting explorations in colour fields are frank but also elusive: look closer and study them in silence -they have a tremble, both visual and existential that belies their creation. But if each canvas is a mood in the blues of psychological deviants and destinations she is able to deliver a Pop smack density that is neither sterile nor mechanically stiff; it does not pin down the eye the way a poster will. It may evoke the giant faces on billboards or in the movie theaters, but it has no commercial slickness. There is a constant flicker, a back-and-forth continuity, between the hand and the mechanical means. (The hand is never quite as inexpressive as the artist might wish.) The very idea of the image seems to issue from some fraught space between painting and perception.
Over the years Nupur who loves bold and brazen brushwork, began to free her hand. She continued to lay out grids on large canvases, painstakingly transferring the image from a photographic memory impulse to a canvas, but she loosened the tight stitch of the zones of fragments. In one series, she filled the spaces with staccato painting; she would create a massive facet from thousands upon thousands of delicate brush strokes. In another series, she filled the grid with bits of painted layers that seemed to look like pulp paper. The more Nupur emphasized her own touch, the more subtle and varied the light became in her abstractions until she was no longer just an abstractionist but on the way to becoming a sensitive and graciously gestural painter, standing back and responding with increasing spontaneity to the evolving image. Her offspring becomes the backdrop around which her emotions dwell. Existence is the elixir in which her gestation evolves, this is why she states:
My sole purpose of existence is very clearly in molding and seeing my creation – my son – bloom well in happiness. My inner subconscious creates these spaces of happiness in solitude on the canvas and I am at very much at ease with myself in this solitude planes. I am confident being alone and not lonely to be definitive.
Dancing has always been very inspirational to me. So is – now – painting along with my son in my studio. I am amazed seeing him paint spontaneously and strive myself to be as free as the young spirit myself when I paint. I have also worked with special children and find that very cathartic.
Feminine Catharsis
Look anyway at her canvasses large and small- there are technically diverse layers of material accretion, readily apparent from the soaked-through patterns and symbolism on the canvas, to deliver an all-over effect that is at once aesthetically arresting and infinitely gripping. Our sustained experience of the painting is rewarded with a feminine catharsis, as the compositional complexity of the work continually fluctuates between the shadows of rhythmic patterns and the disorganized chaos of painting unrestrained. We are left with pools of intensely hued colour fields that   stain and weave the many moods as if all is superseded by a looping matrix of tensile tendrils slicked onto the uppermost paint strata. While the dense filled surfaces encourage the eye to examine its detail, the density of layered pigmentations create a dynamism that presses outward toward the canvas edges and go beyond the frame itself.
Nupur's pursuit is immediacy as well as the fluid union of material and creativity as one. The process of creation is also the act of unraveling in the sojourn of sub texts. Her words swing through:
The process of creating is in itself a journey for me, which I enjoy the most. I work on 3- 4 works together. As always I have been comfortable on large spaces of canvas. Enjoying bold attacks on the space with the oil pigment applied thickly. I enjoy the process of layering. I revel in the sensual treatment of the oil pigment on the canvas and build it with my palette knives, dentistry instruments and paintbrush. Colour is of utmost importance and builds itself one over the other ultimately revealing a structure of spaces and a scape which is uniquely my own. I like to see a lot of colour on my canvas space. I like creating spaces of colour divisions and dimensions. It is the intense activity at the time of creation, which creates a vibrant textured feel of the thick impasto pigment that I like….
Crescendo of Resolution
Perhaps it wouldn't be wrong to say that Nupur's candour lies in her mastery of colour. Indeed, the combination of the harmony of pure color and the tensile strength of linear design positions these paintings in the highest order of her oeuvre. The skeins of material interweave to build the structure of a picture that seems almost to possess an inner life and ultimately a sense of wholeness emerges from the combination of physical abandon and aesthetic control. You wonder if she has faced an unprecedented dilemma in deciding the moment at which a painting arrives at its crescendo of resolution. In this respect the present work is yet again a definitive example of her own abstractive genius. This show is also about her own definitive and distinct new paradigms, and she echoes it in her ruminations:
In this recent body of work I have both worked on the canvas, paper and acrylic sheet as a medium. All three surfaces have been supportive of my spontaneous playful attacks of colour. I find my work very therapeutic at a level – for myself, for the viewer. Many a times I do work in a collage like manner continuing from one work to another and combining them together as one work – like in the example of the work attached – which are nine individual works (3ft by 3ft each) as well as work together as one piece of work (9ft by 9 ft). It is my vision of colour scapes through a prism.
Indeed Nupur's innovations are elemental and instinctive, born of many years of struggling with the tension between the reality of life and finding a world of abstraction that is born between the field of fantasy and the actual gravity on the ground, between the struggles of abstraction and the desire to create an individual yet fractured sense of representation, content and context and technique and seamlessness. From the idea of picking up the paintbrush to work on the tenets of drip, to create dense pools of paint and cull fields of dense and deep pigments from pots and sticks and flattened tools, brushes and other implements-Nupur Kundu has come a long way. Her journey mirrors not dexterity but a devoted yet total physicality that orchestrates the fluidity, density, speed and rhythm of her sensibility to gives us a medium that has evolved into an all-over composition of cohesive yet candid expressiveness. This is the genesis of one woman's journey-it is Nupur Kundu's template for exploring the subjective experience of colour—the effects that adjacent/tangential colours have on one another, for example, and the illusion of flat/ piled up planes of colour create in a composition that celebrates the abstractions of advancing or receding inherent expanses in space.
Uma Nair
Art Critic